As said last time out no real acquisitions to speak off this week, however never knowing when to shut up I'm gonna talk about some stuff I've listened to over the week, namely The Clash 'Sandinista' and 'Combat Rock', Prince 'The Black Album' and Passengers 'Original Soundtracks 1'.
On the download front, Tom Odell 'Long Way Down', Helghyer 'The Mage, The Wiseman and The Lioness Part 1' and a quick peek at Nirvana 'In Utero 2013'.
So starting with a couple of old albums that found their way back to my ears this week. Firstly and least successfully Passengers 1995 Island album 'Original Soundtracks 1', basically a U2 side project with Brian Eno. The songs were intended as accompaniments to largely imaginary films. A sizeable hit was scored with 'Miss Sarajevo' a fairly normal song featuring Pavarotti. It's probably the best thing here, the remainder is largely forgettable, and a not very promising lead up to what this project's main purpose was, the next U2 album, 'Pop', now largely regarded as their weakest album. It irks me a bit when people say 'how can U2 be considered good with pompous git Bono as their front man?' Firstly what's wrong with a pop star wanting to be involved in good causes? Surely that's better than a pop star just sitting at home and counting their millions? And U2 have always been capable of rolling out a corker every now and then. Having said that, the Passengers album includes no corkers, and is a relative low point for both U2 and Eno. If you ever think of listening to it again, then don't, unless you need inspiration for an afternoon nap.


Prince's 'The Black Album' was originally intended to be his 10th album and ended up being his 16th after the record company got cold feet in '87 because of the albums more risqué than usual content. Prince himself seemed to get cold feet over the release as well and was also instrumental in withdrawing the album upon its original release date. The album is Prince's most funk heavy album, and is basically fantastic. Yes it's rude, there's swearing and it's basically psychopathic in places, but it's a classic Prince album. Seek it out.


As mentioned I've also worked my way through a couple of Clash albums from the 'Sound System' box set that I reviewed last week. As I mentioned then the sound on these re-masters is quality so I'm gonna just quickly re-assess the albums. 'Combat Rock' was the LP that truly broke the band in America and just about literally broke them too. It's a great album, containing a couple of genuine stadium hits and some truly original highpoints. Away from the rock bluster 'Straight To Hell' and 'Death Is a Star' are bleak cinema noire classics, the kind Passengers could only dream of. The pop and rock though no longer revolutionary is spot on ('Car Jamming' & 'Atom Tan'). A real shame the band imploded before they could recoup and flex their collective muscle again.
'Sandinista' is the sprawling fourth triple album that is both regarded as a classic in its own right and as an album that would've make a great single album. Both schools of thought are spot on. It's a great set as it is, it's 'floors' only add to its appeal. Who needs a new version of debut album track 'Career Opportunities' sung by two of Blockheads keyboardist Mickey Gallagher's sons? Yet take it away and the LP is missing something. It does contain some of my favourite Clash tracks; the reggae influence in particular asks why there is no Clash reggae/dub compilation? As messy as it is it's a great album, a snapshot in time of a band that had already transcended their own time. You can pick up the new re-mastered version for £8-10. You should do this.
As far as downloads go, I legitimately downloaded for zilch Helghyer's 'The Mage, The Wiseman and The Lioness Part 1'. I was intrigued by the facebook ad blurb of the EP containing traces of the singer's Cornish heritage etc, what with Phil Burdett's forthcoming Cornish inspired album. The EP is decent enough (slightly kooky singer songwriter acoustically tinged) and I'll certainly listen further to see what else she can come up with. Promising if not amazing.
I sought out Tom Odell's 'Long Way Down' after hearing epic hit 'Can't Pretend' in the changing rooms at the gym. Allegedly 'discovered' by Lily Allen and a Brit winner before he had an album out, I was initially put off of Odell because of the hype surrounding him. A bit snobbish I suppose. 'Can't Pretend' drew me in with wistful hooks and major/minor melody, and the rest of the album has its moments too. Very Coldplay, serious singer songwriter stuff but I shouldn't have been so dismissive.
I also downloaded disc two of Nirvana's 20th anniversary deluxe edition of 'In Utero', basically because I was too damn impatient to wait for it to turn up. I'll comment properly when I receive my actual physical copy but basically it sounds like the bottom of the barrel is being reached. There's nowhere near the depth of quality and intrigue that was found in 'Nevermind's similar anniversary release two years back. Please let Kurt rest in peace now Geffen, there can't be anything else left to exhume.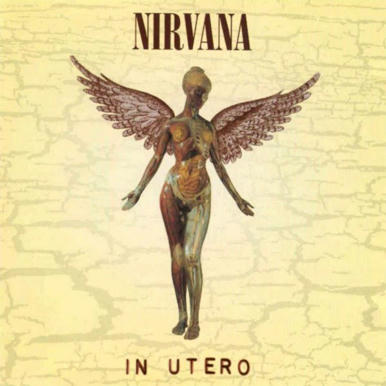 So next week, 'In Utero' in more detail, Kings Of Leon's new album, no doubt some more Clash albums re-acquainted with and who knows what else?