Being upfront about it, I've been a Paul Weller fan for such a long time. I bought Jam singles and albums on their release days, still listen to some Style Council songs (ok, I'll admit it, even whole albums), and always buy his solo stuff. Even solo he's had his up and downs, but for the last few years (22 Dreams and onwards) he's barely put a foot wrong, pushing the boundaries of what we expect from out elder statesmen of rock way out there, experimenting and trying new things, even to an extent that it all might've been too much for some long term fans, though he has picked up a fair few new fans along the way. Last album 'Sonik Kicks' was as about out there as Weller's ever been. This one has its quirks and out there moments but it's the most focussed song album of his later career, and as such for me, it's immediately another highlight.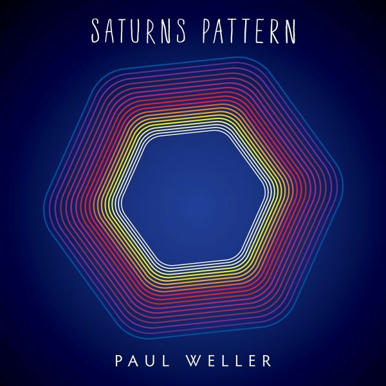 So the music then. Opener 'White Sky' is a rock/blues Zeppelin'ish chugging monster. When the missus walked in the room she couldn't be bothered to ask me what I was listening to, rolling her eyes in a 'he's listening to heavy metal' way. Ignore her she's a philistine, it's a great opener. Hot on its heels, title track 'Saturns Pattern' is on more familiar Weller footing. A pop soul psych out, and lyrically one of Weller's most upbeat songs ever, "Get up, in a mind to get up, it's ours to explore." 'Going My Way' is one of those hopelessly romantic songs that the writer has become so adept at over the years. It shifts gears, has differing passages, yet three songs in and the past Paul Weller album I have most in mind is his solo debut from1992 (this for the record is his 12th solo studio album proper). The music is underpinned with quirky bleeps or blasts but everything is carefully placed and in place and enhances the music rather than detract from it. 'Long Time' arrives next, its rock/pop Quo boogie beat is a surprise, it's short and sweet and I like it. 'Pick It Up' is a six minute slab of pop/soul graft that again reminds me of PW's early solo work. It's sounds well-crafted yet has a spontaneity about it that keeps it welcoming. The keyboards are clean, the guitars crisp and the beat relentless but not punishing. There's even a burst of flamenco guitar that's immediately followed by what sounds like a Stylophone. 'I'm Where I Should Be' says what you'd expect. PW sounds comfortable at where he finds himself in life and music, "Not trapped by the burden of parody". It's one of the more experimental sounding pieces on here, yet still a complete song, built around great melodies.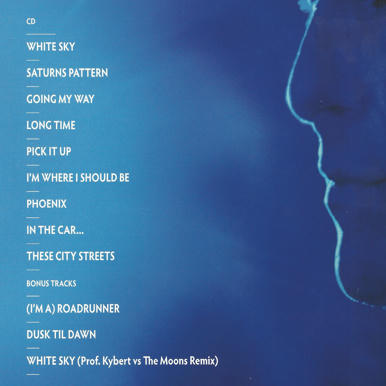 By tack seven and we're on the home run already of this 9 track romp. 'Phoenix' has very retro backing vocals (including Paul's wife Hannah), and is another positive outlook on the current state of the singers life. It's a very 60's sounding track, with keyboards reminiscent of the Doors. 'In The Car' seems the most out of place song lyrically here, the singer embracing the isolation of long journeys round the M25, just him, his wife, and loud music for company. Musically it opens with a gentle Canned Heat 'On The Road Again' guitar motif, developing into another psych out song with different passages and sections. Its possibly the track I was least sure of on first listen but now having lived with the album for a week it's becoming a bit of a favourite. And the album closer proper, 'These City Streets' floats in on a cushion of urban sound effects. Again the '92 solo debut is evoked, and at about 8 minutes long it's one of the longest things PW's ever recorded. Yet it's it's pretty straightforward and again Weller is confident of his own beliefs, feelings and place in the world. Lyrically PW sounds more contented than ever but musically he simply doesn't want to stand still or tread water; reading interviews it's clear he still goes out to discover music he's not familiar with and that exploration is (thankfully) evident in his recent recordings.
Being 2015 and with physical editions of music releases harder to sell than ever the music doesn't stop at the albums end. My deluxe boxed edition features a DVD, the album on heavy blue vinyl, a large booklet, a poster and three 'exclusive bonus' tracks on the CD. The first is a cover of Jr Walker and the All-stars 'I'm a Roadrunner' written by Motown legends Holland/Dozier/Holland. It's a loose southern soul faithful cover. It doesn't add to the album as such, but it's a decent cover. 'Dusk Til Dawn' retains the psych feeling but in a folky vein, it probably would've sounded out of place on the album proper but that doesn't seem to have bothered PW much in recent years. Finally a 'White Sky' remix, good but in all honesty superfluous. All of which leads to my only gripe with the album and maybe even with PW. This deluxe edition cost me about 36 quid, I've seen this going for as much as £48. All the music could've easily fitted on the more basic-including the DVD special edition going for around £12-13. Back in the day PW always gave his fans value for money, non-album singles, sublime B-sides etc. Even the last three deluxe editions all with decent extra music and visuals have been well priced. But the box version, lovely though it is just doesn't deliver great value for money. Great product and music yes, but I feel a little that my devotion to PW's music has led to me being taken.
Still, the album is superb. There is no filler, everything works and aurally it's a treat for decent system. Unless you're a diehard like me go for the standard edition CD (I've seen this for £8) or the decent value 180g standard vinyl edition with free digital download (about £14). Great album, apparently the live shows have been wonderful too. An instant Weller classic.

9.5/10