Broadcasting from near the Thames Delta, featuring hot wax and moods from the Planet Of Sound, the only common theme being random. Let's stick together, consider our child....
So here we are, 9 months down the line and the next day has already received the 'deluxe edition' treatment. Now aside from the dubious motives behind this, it does gives us 4 new tracks, the Japanese only bonus track made available to the rest of the world at last, a couple of remixes and a collection of the first four video's made for the album. The video point is a bit moot though, as here we are, just a few weeks after the 'Extra' edition release and two more video's have founf their way into the world....but not in time to be on this packages DVD. So, a thought or two on the 'Extra' disc from the package....
Firstly the original bonus tracks, presented again with the hope that the world's a little more agreeable now. And yes, it is (or at least I am). 'So She' and 'I'll Take You There' both sounding musch more fully relaised than they did upon release, still clearly not a part of the main album for obvious reasons, but better in seclusion now from the album proper. 'God Bless The Girl', the Japanese only bonus track was always the strong song among the extras and remains so here, inclusive of the remixes and new tracks. A jaunty, 80's lite pop number (BBM 'Tonight') that would have been one of Bowie's best 80's tracks had it actually been released that decade that belies it's lyric of the woes of a working girl, it still stands strong and is the only bonus track that deserves to live with the rest of the album. The instrumental, 'Plan', is still as pointless as it seemed upon release.
The two remixes you may well be familiar with thanks to youtube and Vevo. 'Love is Lost (Hello Steve Reich Mix by James Murphy for DFA)' extends and unwinds the original whilst weaving in some ghosts of Bowie past, most notably 'Ashes To Ashes'. It's decent but adds nothing to original songs quality. 'I'd Rather Be High (Venetian Mix)' is mopre of an alternative mix than an overhaul type remix and sits more comfortably, adding some nice touches to the original.
And so to the four 'new' tracks. Nothing amazing on offer I'm afraid to report though on early listens they seem at least more substantial than the original bonuses. 'Atomica' would have been an OK filler on an 80's Bowie album (BBM 'Never Let Me Down') with slap bass flourishes et al. The same can be said of 'The Informer (also BBM 'NLMD'), probably the most lightweight of the new offerings. 'Like a Rocket Man' a bit lightweight musically and lyrically coming across like early 90's Bowie (BBM 'Black Tie White Noise' whilst 'Born In A UFO' (BBM 'Heathen') is much closer the latter day Bowie, but just not as memorable. And that's it. The new stuff is OK, but not really essential. Which begs the point, why the hasty 'Extras' edition? Surely not just to squeeze the diehards and other fans?
Below is the original parts of 'The Next Day' evolving review.
Original Postings from March 2013....
So Bowie's new album is out there, thanks to the wonders of the internet's streaming services. I have had copyright notices served on me with some of my recent posts so hopefully here comes something original.
This is my review, my thoughts, my writing on the 'The Next Day'. It's an evolving review. Evolving because it'll change and grow. Firstly an image, my own alternative album cover if you like. Based on an image that appeared in the The Sunday Times by

Michael Frith, an image that's available freely on the internet and keeping the simplicity of the actual design but with a little more depth and showing a contemporary Bowie, I'm not saying my hastily assembled sleeve is better but surely it's a little more interesting, still retaining the nod to the past with Bowie's name lifted wholesale from the "Heroes" cover.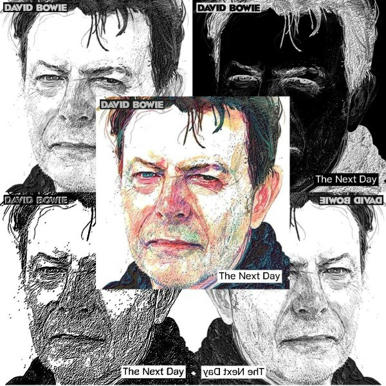 In the next day or so I'll post an initial review. Like thousands of fans the world over I have the stream burnt to CD (courtesy of Audacity, ProAlgorithms and Nero) and this will be my take on the album. Just before release I'll add my feeling a week into living with a new Bowie album. And then with my hi-fi retailer head on a final update feeding in the bonus tracks and explaining why you should buy the actual, pressed and mastered CD. Maybe it won't flow too smoothly, maybe it will, but it'll only be found here....
Evolution #1 - 'The Next Day', Thames Delta World Service Review (added on 3rd March 2012.
So where to start when writing about a new David Bowie album in 2013? Personally I thought this would never happen, so once announced initial thoughts were 'I hope it's good and not a blot on a legacy'. 'Where Are We Now?' was an instant classic when the world woke up unexpectedly to it on January 8th. '(The Stars) Are Out Tonight' followed six weeks later, and things continued to bode well. Initial reviews in the magazines (which though I've posted I've not read to heavily, I want to make my own mind up) seemed to confirm a classic was in the offing. Then on Friday the whole album appeared as a free stream on iTunes, 10 days before release. I want it to be great, but I'm not gonna just say it is, Bowie deserves better than that, even from a heavy duty fan like me and amateur reviewer. I want to know where it fits into the Bowie cannon, there seems to be a fair amount of looking back (the cover, Berlin references on the lead track etc), so I'm going to give each track a Bowie Benchmark (herein referred to as BBM) as it arrives.
And arrive it does, with the title track 'The Next Day' (BBM 'Lodger'). Guitars, loud and crude. Guitars are the signature of this album in the same way Mike Garson's piano was to 'Aladdin Sane'. At first, what with the album sleeve etc, you could be forgiven for thinking you've slipped the wrong Bowie CD on, this IS 'Repetition' from 'Lodger'. Lyrically not a million miles away from 'Wide Eyed Boy From Freecloud', in fact imagine that song as if written by electric/glam era Bolan, it's a story song that sets a tone of paranoia and defiance. The double edged lyrics also seem to reference Bowie's return, "Here I am, not quite dying" and also that this might not be one off "And the next day, and the next, and another day…" And into 'Dirty Boys' (BBM 'Tonight'). Disjointed, parping saxes, scattergun guitar work, very art rock. There's an air of threat and isolation. So far things are brief but not simple; we're entering an album of subtle depth.
However, that art rock stops and collides with straightforward pop rock with '(The Stars) Are Out Tonight' (BBM late 90's/into the 00's) dealing with the public's fascination of 'Hello' celebrity from both sides of the fence and pulling no punches with it. Great video if not the most obvious single but a grower. A week into knowing this track and I'm basically loving it. 'Love Is Lost' (BBM 'Hours'/'Let's Dance') arrives with the albums first of a few killer keyboard motifs and a throbbing bass line, it's almost a hymn to a passing life but addressed to a 22 year old, someone who's made it big. Could it be a song of warning to Adele? Sounds mad but this is Bowie and he'll write about whatever he damn well wants. You're left quizzically rubbing your head, then 'Where Are We Now?' arrives (BBM 'Heathen'/80's soundtrack contributions), instantly familiar and a classic from the day it was born. It certainly wasn't the most representative song to put out first but it was a perfect song to return with. There isn't another track here that could've whipped up the frenzied reaction that this one did. There's reflections on the past (a virtual bus tour of Bowie's 70's Berlin) and the longing questions about the here and now. And a frail vocal that is completely out of sync with the rest of the album, surely deliberately sending everyone down the wrong road of anticipation. A masterstroke of modern media management.
Then the pace ups again. 'Valentine's Day' (BBM 'Toy'/'Absolute Beginners'') is a delightful 'sha la la' led sixties throwback, not about the soppiest day on the calendar but a disaffected youth quite possibly about to go on a killing spree in a mall. The boys name obviously is Valentine. 'If You Can See Me' (BBM 'Lodger') arrives as a gung ho all over the place rock song, practically a rewrite of 'Look Back In Anger'. God knows what it's about but the lyrics are great, 'America ana-them testicle-sation' 'Now you can say I've got a gift of sorts, A fear of rear windows and swinging doors' 'Children swarm like thousands of bugs
, Towards the light'. And another unexpected nod to the past, is that the Laughing Gnome on backing vocals? 'I'd Rather Be High' (BBM 'Lodger') kicks in with a fantastic hook, a proggy anti war song, 'I'd rather be dead, or out of my head, than training these guns on those men in the sand', you get the message. 'Boss Of Me' (BBM late 90's/into the 00's) arrives with an uncharacteristically funky bass line, and is possibly an almost straight if slightly skewed love song, Along with the following 'Dancing Out In Space' (BBM 'Reality') it seems we've arrived at a 2/3 of the way album dip (a negative of the longer CD based album format). Having said that 'Dancing…' is joyously poppy and proggy at the same time, a tale of a girl lost in a big city, weighing up offers of help.
Then the quality ups again, and some. Second anti war anthem 'How Does The Grass Grow?' (BBM 'Scary Monsters…') blazes into focus with a superb squalling guitar intro, some great infantile yet brazen 'la la la's' in the chorus, what feels like the albums umpteenth mention of graveyards, and some fantastic use of the human voice as instrument. Like many tracks here there's a great vocal contrast introduced as a kind of middle eight, this is a busy track. As '(You Will) Set The World On Fire' (BBM 'Lodger'/'Scary Monsters…') crashes in we're given heavy duty Jimi Hendrix/Jack White guitars. It seems to be about Greenwich Village in the 60's, namedropping Dylan and Baez and even Kennedy.
Before you know it, we're at the final two tracks. And what a way to end an album. 'You Feel So Lonely You Could Die' (BBM 'Aladdin Sane') evokes Elvis not only in its title but also in the rock'n'roll feel it has musically. It's a bitter song directed at an ex, evoking more feeling of being lost in a big city, it's as epic as its title. It's a latter day Bowie classic. Talking of which, 'Heat' (BBM 'When The Wind Blows') rounds the standard album off unexpectedly and marvellously. As it starts you could swear a lost 70's Eno collaboration has been grafted onto this modern rock album. There's the epic feel of the previous track, a fluid bass, a stunning vocal and some abstract lyrics. The 'My father ran the prison' vocal refrain evokes Scott Walkers current work, so much so I pretty much hear Scott's voice not David's. I'd love to hear it as a duet.
And then the albums over. Is it any good? Damn right it is. It's the best post 'Scary Monsters…' album by some distance. It even holds its own against 'Low' and 'Lodger' and obviously eclipses 'Pin Up's'. That it doesn't reach the heights of the rest of Bowie's 70's output is not a weakness, I mean, what a 70's output. It's a punchy collection of songs, nothing overstays its welcome. Bowie sounds more confident than ever, and this flows through the other musicians on this record. The filler would be other artists album highlights. This album not only is but is also that album that should've come after 'Reality'. Simply not 10 years after. But then everything that's gone on since 'Reality' is what makes 'The Next Day' what it is. I'm rambling. This Bowie fan says this Bowie album is great, and not what it could so easily have been. It's no let down this. It delivers. Bowie delivers. Buy it.
Evolution #2 – A brief reflection on the bonus tracks…. (Added on 8th March 2013).
Most of the world is treated (?) to 3 bonus tracks (the Japanese get four…)
So She (BBM 'Toy') is a lightweight pop outing that is here and gone in the blink of an eye, there's normally a reason why these tracks are not on the main album if you get my drift…. Plan (BBM 'Never Let Me Down') is a pointless two minute instrumental that barely even sounds like a well thought through demo. I'll Take You There (BBM 'Black Tie White Noise') is the best of these three bonus tracks, at least sounding well worked out though lyrically insubstantial. Don't let these songs detract from the success of the album proper. They're not as busy or of as high quality as the 14 main songs and as such serve no purpose.
As promised, as a hi-fi man I'll try to explain why the proper album (CD or Vinyl) should be purchased as opposed to a download, dodgy or otherwise. Put simply, sound quality (well, what did you expect me to say?). This is a well recorded album with depth and complex arrangements. An MP3 simply does it an injustice. A bit like seeking out The Lord Of The Rings movie trilogy on VHS, why would you do it? Music is a crafted art form, you wouldn't go into an art gallery with sunglasses on, so if you love music then listen to it properly. Rant over.