Saw this band at Chinnerys on Southend sea front a few weeks ago. It was one of those gigs where I didn't really wanna go but got dragged along anyway. And I'm glad I did, they were great. I came away with thoughts of a name change (JUKE has grown on me now by the way) and a title for their first mini LP/EP. I'm nearly 50 for god's sake, these boys could be my grandchildren! They can come up with their own names and stuff (The Aspergiks/Future Anthems EP featuring the as yet unwritten title track just in case you were wondering). This is still the stand out track for me from their current set.They have gigs coming up at Chinnerys again on May 9th, the Railway in Southend on May 22nd and Peggy Sue's in Leigh On Sea on April 25th. You could go and see them and that and say you were there at the beginning if they get big. And if they don't get big, you can have a good time anyway.


JUKE are Matt Lamb, Miles Hobbs, Keiran Brown, Tom Cuningham and are
Essex boys.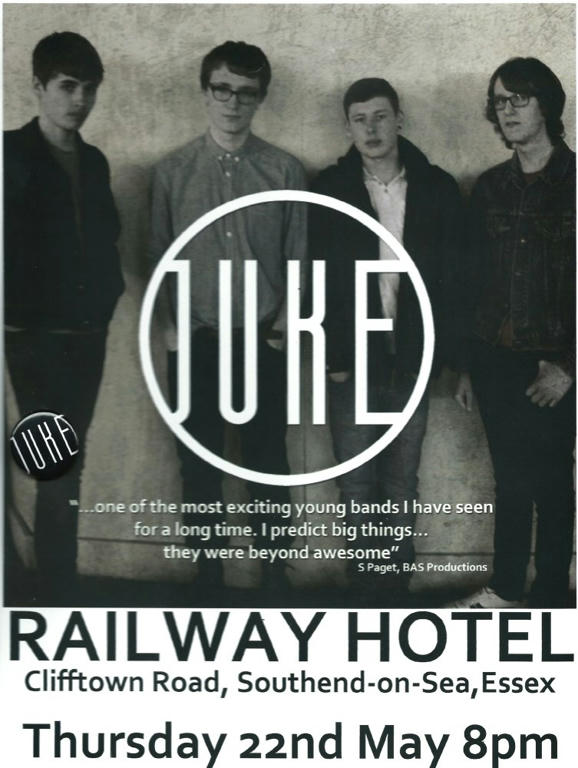 25/04/2014 - Juke at Peggy Sue's, Leigh on Sea - Just back from what I believe was Jukes 4th gig at a small 'piano' bar in Leigh. They went down a storm, it was a joy to watch. Thanks for the dedication on 'Mojo', most appreciated. Here's some grainy iPhone/Hipstamatic pics, plus a random one from some movie ('Future Anthems' EP sleeve in my mind). Go see 'em soon.